Seminar materials will be posted under the "Seminars" menu.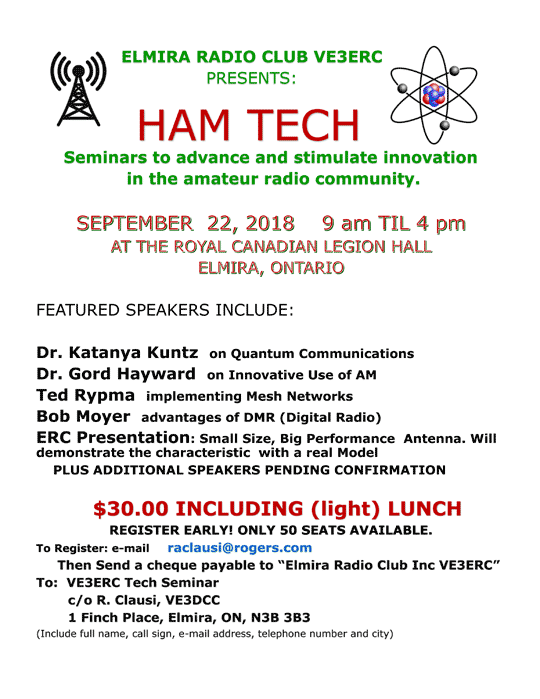 JULY 2018
Our dynamic hobby and your Radio License offer opportunities to build, explore, experiment and discover.
As part of our club's effort to facilitate curiosity and, perhaps, innovation, we are sponsoring a "Ham Happening"— Saturday Tech Seminars dedicated to learning outside of the box.
We will have 4 or 5 speakers address issues of interest in back-to-back one-hour plenary sessions, inclusive of questions. There will be a modest "funeral-style" lunch at noon. The day will begin at 9:00 am and end at approximately 4:00 pm.
So far, speakers and topics include:
-Dr. Katanya Kuntz, of IQC (the Institute for Quantum Computing, University of Waterloo) will speak on quantum communications;
-Dr. Gord Hayward, Professor Emeritus, University of Guelph, ve3EOS, will present an inno- vative use of AM;
-Ted Rypma,ve3TRQ, will explain and demonstrate pop-up Mesh networks that use re- purposed internet routers;
-Robert Moyer, ve3NXT, licensee for our local Digital repeater will explore several aspects of DMR(digital mobile radio).
Additional speakers are yet to confirm.
To register, follow these FOUR steps:
STEP 1: Email your intent to attend by emailing the form, below, or a facsimile, immediately,
To: raclausi@rogers.com
Attention: Registrations, ve3ERC Tech Seminar Day committee:
PLEASE ADD MY NAME TO YOUR ATTENDANCE LIST for Saturday Sept. 22 Ham Session
Full Name:
Call SIGN:
EMAIL ADDRESS:
Full telephone number:
QTH: city/town
STEP 2: Print a copy of the form that you emailed, above.
MAIL it with a cheque for $30 payable to "Elmira Radio Club Inc ve3ERC"
To: "VE3ERC Tech Seminar c/o R.Clausi, ve3DCC, 1 Finch Place, Elmira, ON, N3B 3B3"
** Be sure to INCLUDE the printed copy of the form you emailed to us in STEP 1. Your name is on the final list when the cheque is received and processed.
STEP 3: We will confirm via email that your name is on the attendance list when your cheque is cashed. More details will be provided with the confirmation.
STEP 4: Arrive at 8:30 am, on site, on Saturday Sept. 22, 2018 to pick up your registration package, name tag and meal ticket. Enjoy!!!!!
I hope you can join us.
De ve3DCC, Rich.